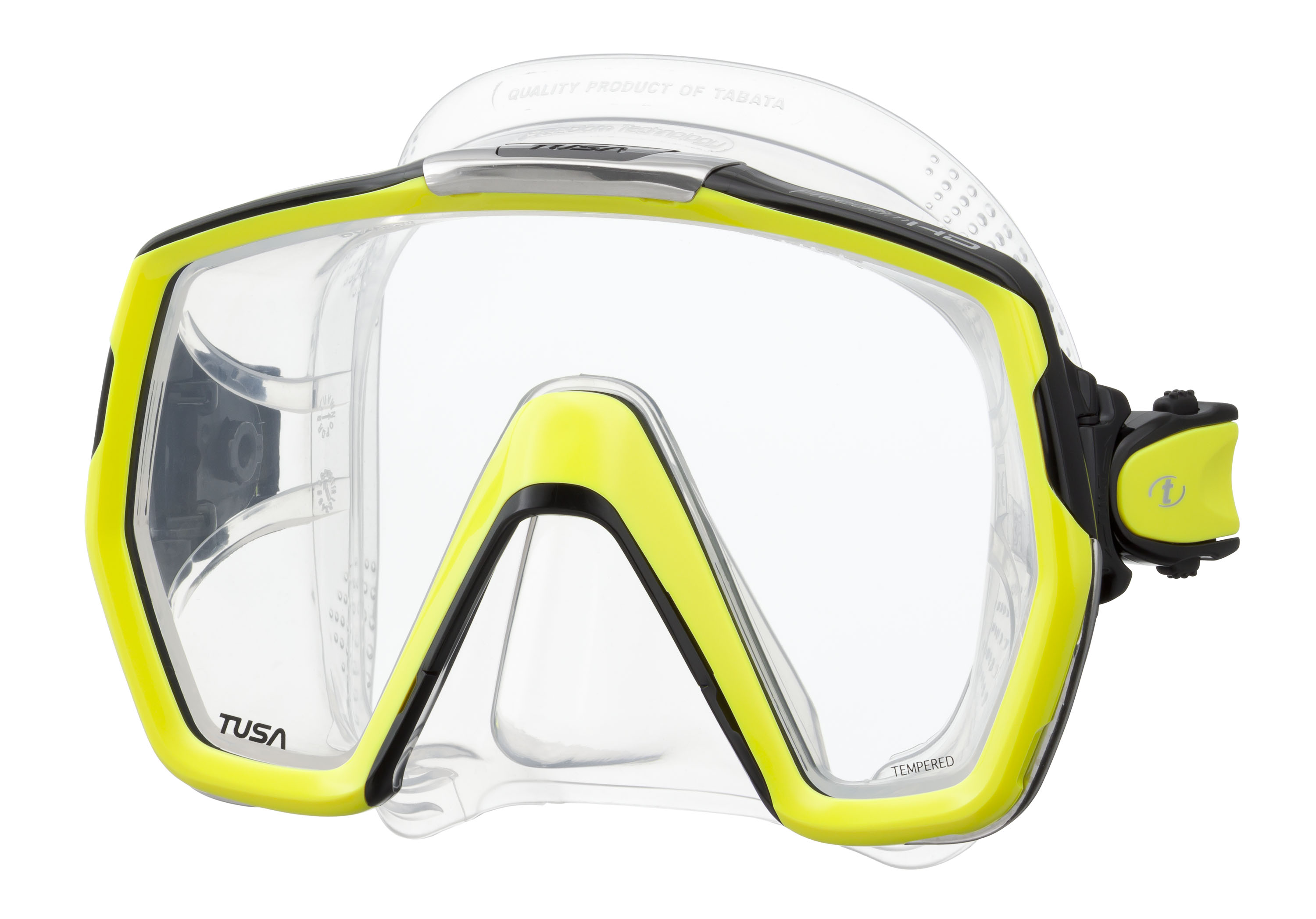 The Freedom HD mask is the latest mask from TUSA to feature Freedom Technology.  It is a single lens masks with an incredibly wide field of vision and boasts a 180° Rotational Buckle System, allowing it to fit a variety of face sizes while maintaining a low profile.
Freedom Technology delivers superior fit, comfort and performance.
More Information
Key areas around the forehead and cheek bones have been designed with dimples which combine to increase the skirt's softness, flexibility and skin surface contact. This greatly reduces leakage and enhances comfort.
When using a regulator or snorkel mouthpiece areas of the mouth and nose section can become distorted, causing leakage and discomfort. Varied thicknesses of silicone in these key areas reduces leakage and provides a better fit.
As water pressure increases, a mask will compress inwards toward the face often causing further leakage or discomfort. Areas under the cheek bones have been reinforced with stability ridges to minimize this compression maintaining ideal skin surface contact.
Freedom Dry enhances comfort and fit by utilizing a revolutionary low friction skirt surface. The skirt fitting line includes a low friction surface that delivers a superior seal and increases the facial area contact patch while significantly reducing excess skin tension. The result is a soft and supple feeling mask with a dramatically improved seal.
Features
Incredibly wide field of view
180 degrees Rotational Buckle System
Large frame with minimal internal volume
Five-position strap angle adjuster for micro-adjustment
Round-edge skirt
3-D mask strap
Colours Available
Price
£73.00
Better Together! Discounts available for NHDC course students & NHDC dive society members.